Cudas back on top
Round 1: CAF v Farum
In perfect conditions at the Pond, the scene was set for the Cudas to take revenge from last year's disappointing grand final loss to the Farum Cats. From the opening bounce the intensity was high, with both teams trying to assert themselves physically. With best on ground Kane Perkins cementing his reputation as the competition's toughest unit, and man-mountain Tom Boyd throwing his bulk around to create openings for the runners, Cudas wrestled their way to an early lead.
The Cats' attacks were relentless, but time and time again, Emil Thaning, with great support from Jason Nunn, repelled the onslaught to set up our hard leading forwards. Smithy, Frost and Jack provided moving targets all day and kept the ball in through great tackling. Emil and Jason continued to create from half back and through the middle which helped Cudas lead at each break. Cats were playing a wide game which suited Cudas rock solid defence. Kristian once again took the chockies over his pet Cat keeping him to just a few. Captain Kaj was getting frustrated with the ball not coming his way and willed himself into the game to have a huge impact in the second half with some telling marks and a great goal. Young Pagey was hampered by a groin injury so wasn't able to use his usual speed but provided one of the highlights of the day by bringing down their giant mammoth in a ferocious tackle at the feet of their coach on the boundary line.
The Cats got a roll on of multiple goals in the 3rd but Kane's tenacity and skill kept surging the ball forward where Frosty was creating havoc with his ducking and weaving, setting up multiple goals and dining out on a few himself. The pressure valve was finally released when Smithy took a strong pack mark and kicked truly, taking the sting out of the Cat's fightback. Sam Murray showed flashes of his great skill and smart decision-making.
Christian Poulsen was impressive in his first game of Aussie Rules. Fraser, Elliot, Bram and Rasmus and Patrick were used as pinch hitters off the bench creating headaches for the opposition and will welcome more game time in the coming weeks. A super impressive win by the boys and an ominous warning shot for the rest of the competition.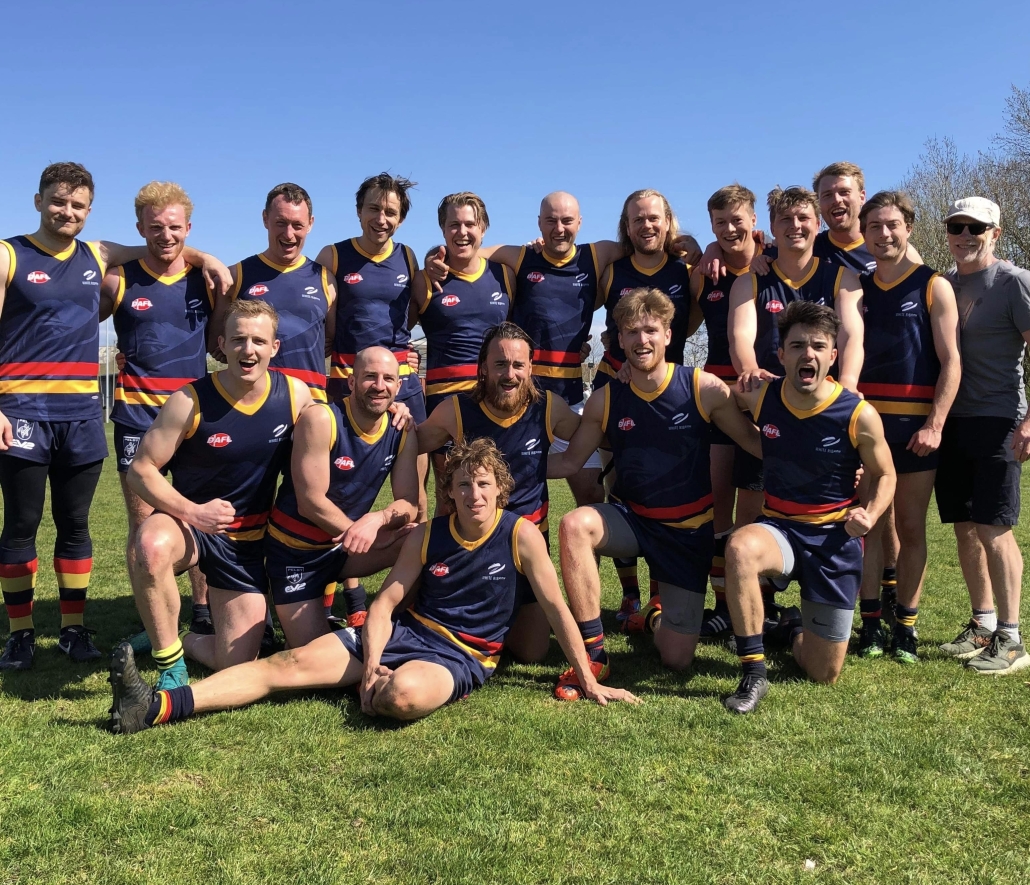 Special shout out to the 2 umps, Eddie and Kristian who officiated fairly, decisively and took no shit. Tim on the bbq and pies did a great job.
Proud, very proud.
6 Smith, 3 Lane, 2 Kremer, 2 Siebert, Nunn, Murray
Kane Perkins, Tom Sandow Smith, Emil Thaning